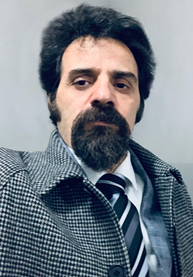 Dr. Hoshang Kolivand
Department of Computer Science, Liverpool John Moores University, Liverpool, UK
Bio:
Hoshang Kolivand is a Visiting Professor at Bharath Institute of Higher Education and Research Chennai, India; Senior Lecturer in Computer Graphics at the Department of Computer Science, Liverpool John Moores University and a Research Fellow at Staffordshire University, UK. He received his MSc degree in Applied Mathematics and Computer Science from Amirkabir University of Technology, Tehran, Iran, and his PhD from Universiti Teknologi Malaysia (UTM) in 2013. His background is in 3D Maths & Computer Graphics in particular Augmented and Virtual Reality. Over 150 international publications in the area of 3D visualization, immersive technology and human Computer Interaction. A global leader in this field invited to address the current and future advances of immersive technology in several high ranked international events.
Email ID: [email protected]
Contact Number: +4401512312009
Title: Privacy and Security, Potential Path in the Future Directions of Augmented and Virtual Reality
There is no doubt that Augmented and Virtual Reality (AR/VR) has changed the world recently and has the potential to become a fascinating widespread requirement in daily life. In about two decades, AR/VR has turned into one of the most attractive topics and will be a big part of our future life. On the other side, security and privacy to safeguard both data and the users will be the most important aspect when AR/VR over the cloud. In this speech, I am going to present this fascinating technology and then highlight the importance of security and privacy in future directions of AR/VR. First I will be introducing my team by what we have done so far with AR and VR and new technologies. Then the paths of security and privacy in this regard will be discussed. Some future directions of AR/VR also will be discussed.
Dr. Thar Baker
Department of Computer Science at the College of Computing and Informatics, University of Sharjah, UAE
Bio:
Dr. Thar Baker is Associate Professor in the Department of Computer Science at the College of Computing and Informatics, University of Sharjah in UAE. He has received a PhD in Autonomic Cloud Applications from Liverpool John Moores University in the UK (in 2010), where he also worked as Senior Lecturer and Reader in Cloud Engineering from 2013-2020. Before then, he was a Lecturer in Computer Science in Manchester Metropolitan University in the UK. He is a Senior Fellow of the UK Higher Education Academy (SFHEA), a member of IEEE, ACM and BCS. Dr Baker has published numerous refereed research papers in multidisciplinary research areas including Cloud Engineering, Distributed Software Systems, and Energy Efficient Networks. He has been actively involved as member of editorial board and review committee for many peer reviewed international journals and is on programme committee for several international conferences.
Title: An Energy Efficient Routing Protocol for Internet-of-Vehicles
Vehicular Ad hoc NETwork (VANET) allows communications among vehicles, and vehicles with the roadside infrastructure, namely Vehicle-to-Vehicle (V2V) and Vehicle-to-Infrastructure (V2I) respectively, in smart cities. The conventional VANET is evolving rapidly into the Internet-of-Vehicles (IoV). IoV aims at improving drivers' safety via enhancing drivers' awareness of the roads' conditions. However, due to the number of vehicles, the infrastructure elements, the size of scenarios and mobility of nodes, the energy consumed to discover conditions of routes between source and destination nodes can be high. In this talk, I am going to discuss our GreeDi based reactive routing protocol aimed at selecting the most efficient route in terms of energy consumption between two nodes in VANETs and IoV. The route selection is based on the power consumed by the intermediate nodes between the source and destination nodes – including energy consumed to discover the route's conditions. The proposed algorithm has been evaluated in city map based VANET scenarios. The simulation results confirm that the proposed algorithm outperforms the original AODV in terms of power consumption. Furthermore, a computational intelligence driven approach to address the challenge of energy efficient routing optimization, will be discussed.
Dr. Nicolas Sklavos
Computer Engineering & Informatics Department, University of Patras, Hellas
Bio: 
Dr. Nicolas Sklavos is Associate Professor, with Computer Engineering and Informatics Department (CEID), Polytechnic School, University of Patras, Hellas (Greece). He is Director of SCYTALE Group. His research interests include Cryptographic Engineering, Hardware Security, Cybersecurity, Embedded Systems, and IoT. He has participated to a number of European & National, Research and Development Projects. He is Evaluator/Reviewer of project calls, funded by the European Commission, or National Resources. He has participated to the organization of international scientific conferences, of IEEE/ACM/IFIP, serving several committee duties, as well as Editorial Board Member of several Scientific Journals. He has authored technical papers, books, chapters, reports etc., in the areas of his research. He has been also Keynote/Invited Speaker for conferences, technical forums, summer schools etc. His publications have received a great number of citations, in scientific and technical literature. He is Senior Member of IEEE, Associated Member of HiPEAC, and Member of IACR. Homepage: www.scytale.ceid.upatras.gr
Title: Cybersecurity of 5G Technologies
We are about to witness soon the first incarnation of 5G technology. It provides many breakthrough capabilities that will enable it as a preferred platform for the digitized business of the future. Solid and centralized security is one of the strongest key aspects of the legacy 4th Generation networks, and the same is expected for the 5G. This cannot be achieved, however, solely by adapting those secure, proven security functionalities and features of the 4G standard. The new business application ecosystem of 5G will drive Cybersecurity to its limits. In this work, we will show the major security threats that will jeopardize the security capabilities of the 5G platform. We will depict the main standardization progress so far, together with the discussed security architecture design strategy for the 5G. We conclude this area topic by providing the most advanced security considerations and challenges for the future of 5G security.